These famous trumpet players are considered masters of the brass wind instrument. They can beautifully and harmoniously fit the instrument with different styles like classical, rock, blues, jazz, and even pop. Who are they? Let's find out in our list of most famous trumpeters.
1. Miles Davis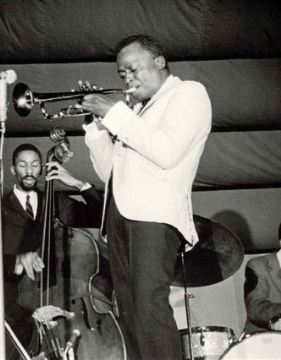 Davis is one of the most famous jazz trumpet players. He regularly played in Manhattan jazz clubs alongside Charlie Parker, the legendary saxophonist. Davis was pretty fashionable and had a way of captivating audiences with his brooding persona and declamatory trumpet playing.
He later formed the Miles Davis Nonet, which significantly helped shape jazz later in the 50s and 60s. Davis reunited with Charlie, and they started the hard bop sound. In the late 50s, he pioneered cool jazz. Some of the best jazz trumpets of all time are records like Relaxin' with the Miles Davis Quintet.
Getting into fusion divided his fans because most of his old listeners preferred his style from the 50s and 60s. His composer Gil Evans was a constant factor throughout his career, and all their projects are classics, with Porgy and Bess being the most consistently moving.
2. Louis Armstrong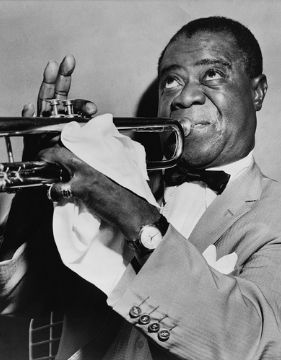 Louis is a famous black trumpet player and entertainer. He usually sang many melodies in his songs and had an unmistakable voice, making him a household name in jazz and pop.
He was among the foremost popular and jazz songs ambassador. The US state department even supported his world tour well into his sixties.
Louis had a successful career, and some of his famous works include "When the Saints Go Marching In" and "What a Wonderful World."
3. Chris Botti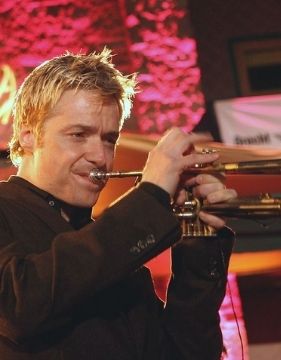 Botti was born in 1962 and is among the21st century most famous trumpet players because his style seamlessly fuses pop and jazz.
In his senior year, he left college and went on tour with Buddy Rich and Frank Sinatra, then relocated to New York to refine his playing further.
Botti caught the ear of Paul Simon, leading to him spending most of his time recording and touring with Paul. This made him become an in-demand studio musician. He also has credits with other musicians like Roger Daltrey, Natalie Merchant, and Aretha Franklin.
He stills record up to date, and his studio albums are a master class in pop and jazz fusion.
4. Alison Balsom
Balsom is the most virtuous and innovative classical trumpet player in the 21st century.
In such a short period, she has been able to amass a vast discography. She first started playing when she was seven years old, and in a year, she was thriving in brass bands.
In her early 30s, Balsom moved up the position of principal trumpeter in the London Chamber Orchestra. She keeps releasing albums and Magic Trumpet, her latest, is a masterclass in classical trumpet.
5. Wynton Marsalis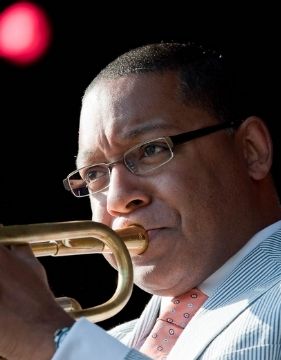 Marsalis was born in 1961 into a musical family and is one of the most popular modern-age trumpeters. His career has virtually been spent collecting just about every award that a musician can win, including a Pulitzer prize and nine Grammys. It is worth mentioning that he was the first musician to get a Pulitzer prize for jazz recordings.
Marsalis has performed and created a wide range of music such as big bands, chamber music orchestra ensembles, and quartets. Before forming multiple successful quintets, he spent his early years traveling with Herbie Hancock, the Jazz Messengers, and Art Blakey. Most music players and critics credit his work with helping in ushering jazz to the 21st century.
He launched the Classical Jazz Summer series in 1987 at the Lincoln Center, which became wildly popular. He still practices trumpet and is an artistic jazz director, composer, and music educator at the Lincoln Center, in New York.
6. Chet Baker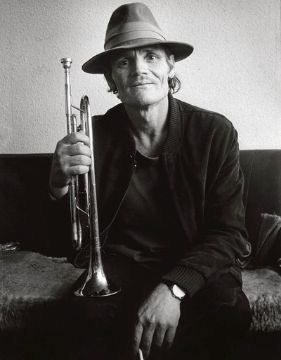 Baker was a virtuous trumpet player popularly referred to as "The Prince of Cool." He got this name due to his groundbreaking work in the cool jazz genre, which Miles Davis started. Baker started playing when he was a schoolboy and kept polishing his talent as he grew. He even joined the army band for a couple of years.
He got his break in the early 50s playing with Stan Getz and Vido Musso before catching the ear of Charlie Parker, who took him under his wing. In the late 50s, Baker spent most of his time in different jazz groups, like the Gary Mulligan Quartet.
They made a rendition of 'My Funny Valentine.' It was a hit that Baker was associated with for the rest of his career. He was also known for his vocal performances, the most popular being "Chet Baker Sings," "It Could Happen to You." He had a successful stretch as a recording artist. To date, his recordings for Pacific Jazz are considered some of his best work.
7. Timofei Dokschitzer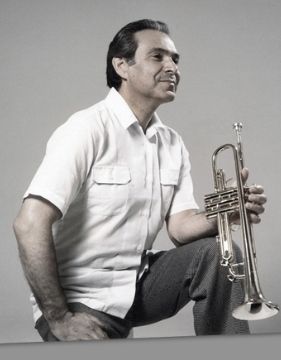 Timofei is one of the most famous trumpet players in the world. He was born in 1921 and started playing when he was ten years old. He was also the professor of a Gnesins Musical College.
Timofei proved that the trumpet, like piano or violin, can be a solo instrument. He played modern concertos and classical music compositions, and a few of his records were reissued on CDs. He loved opera, where he got his sound and style from, so his play imitates an operatic influence.
8. Arturo Sandoval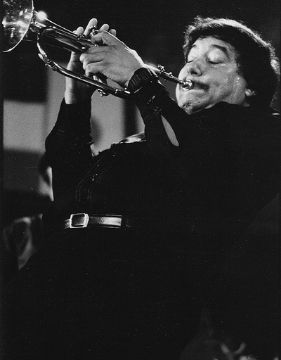 Sandoval was born in 1949. He is a Cuban trumpeter who gained international popularity due to his impressive Latin jazz performances. When Sandoval was younger, he used to play with street musicians in Cuba before setting up the Orquesta Cubana de Musica Moderna. He set out to tour the world with his band in the late 80s.
Sandoval met Dizzy Gillespie while on tour, who became his mentor and friend. He defected from Cuba with the help of Gillespie, and his fame grew immensely. Sandoval performed at the Super Bowl and the white house and has an Emmy and several Grammys.
9. Dizzy Gillespie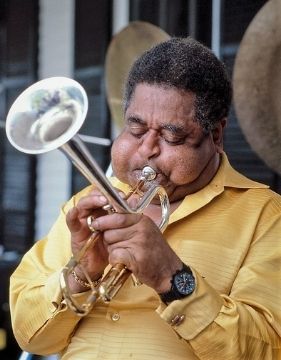 Gillespie is famous for his unusual trumpet embouchure and is arguably the most influential figure in jazz history. His virtuous style has significantly influenced most jazz players, including Chuck Mangione, Arturo Sandoval, Miles Davis, and Fats Navarro. He remains one of the most famous trumpet players today and is remembered as a founding father of bebop and jazz.
At 18 years, he started his professional career, playing with orchestras led by Cab Calloway, Edgar Hayes, Teddy Hill, and Frank Fairfax. After honing his chops, he ushered in the bebop era of jazz and other jazz giants like Thelonius Monk and Charlie Parker. This was a groundbreaking new style, which was different from its preceding swing music.
His queer trademark was the way he puffed his cheeks out as he played. His clowning around and entertaining frolicking on stage is what got him the name Dizzy. A Night in Tunisia and Groovin' High are some of his most celebrated works.
10. Clifford Brown
Brown made an impact because of his mastery of the trumpet. He also has a gift for writing captivating melodies.
He is arguably the most talented young trumpet player of his generation. During that era, most aspiring jazz players had succumbed to drug addiction, but Brown was drug-free. This made him a great role model as a man and musician.
Unfortunately, he lost his life in a tragic car accident in 1956 when he was only 25. He had just begun his career, so there are often a lot of unanswered what-ifs when discussing him as a trumpeter. Brown was a link between the bebop and hard bop style that flourished under Miles Davis, Horace Silver, and Art Blakey's direction.
He had been recording for four years by the time he died, yet he left a substantial legacy on record.
11. Maurice André
Maurice was born in 1933 and was a French trumpeter. He rose to fame due to his work on the piccolo trumpet, which is not well known and is often used in baroque and classical music. This is where Maurice thrived and made his living.
He productively recorded from the late 50s up until he died in 2012. Maurice's recordings are a masterclass in classical music.
Conclusion
The listed are some of the most famous trumpet players, and you should listen to their work if you have not already. Several other trumpet players are equally talented, and you can look them up and learn more about them. All these artists have contributed significantly to their different respective genres and deserve recognition.