Music, the way it is today, has come a long way. The music progress can fit seven main periods from the last thousand years or so. Each of the classical music eras has something musically unique that sets it apart from the rest.
7 Classical Music Eras
Learning the progression of music through these distinct periods will make you appreciate what music has become today. Here are the main musical periods and some of their famous composers.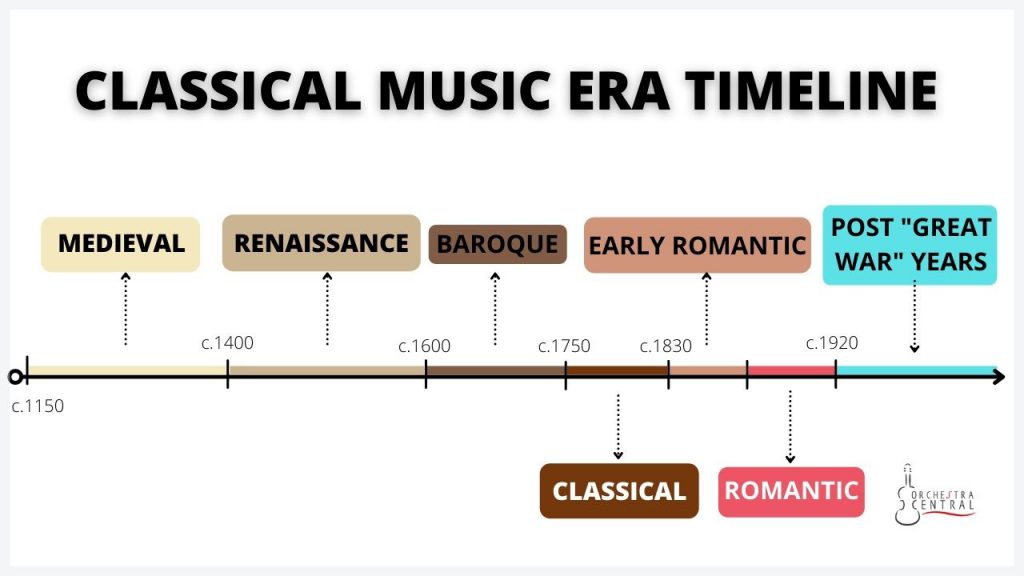 1. Medieval (1150 – 1400)
Religion is the most significant musical influence because the church was the main public forum for music-making. Medieval music was mostly monophonic chant or Gregorian chant, which Gregorian monks sang. Aside from singing, many medieval musicians played instruments such as flutes, lutes, and string instruments.
Early versions of harpsichords were also prominent during this era.
The Medieval era lasted 250 years before transitioning to Renaissance.
Famous Medieval Composers
Hildegard of Bingen
Stephen of Liege
Leonin
Pretonin
Philippe de Vitry
Adam de la Halle
Francesco Landini
Guillaume de Machaut
Peter Abelard
2. Renaissance (1400 – 1600)
Unlike the Medieval era, the Renaissance was short-lived – it only lasted for 200 years. But it paved the way to more sophisticated music, which we still use today. As a matter of fact, it was in this period that polyphonic and tonal were born.
As mentioned, Medieval has a monophonic singing. In Renaissance, it became a polyphonic style which means songs now had multiple voices. This period also embraced tonal music that added cadences.
Famous Renaissance Composers
William Byrd
Thomas Tallis
Josquin des Prez
Claudio Menteverdi
Orlando de Lassus
Giovanni Pierluigi da Palestrina
Guillaume DuFay
Carlo Gesualdo
Gregorio Allegri
Johannes Ockeghem
3. Baroque (1600 – 1750)
After the Renaissance period, music entered into another era called the Baroque.
This classical musical era centered in Italy but quickly expanded to other surrounding European areas. And, since this period welcomed many musicians from other countries, Baroque music was heavily influenced by English, French, and German composers.
But the most significant event during the Baroque period was the birth of the modern orchestra, concerto, sonata, and opera. It's also one of the classical music periods that emphasized dynamics, instruments, and orientation.
The Baroque music era also popularized the basso continuo notation, wherein a cello played a bass line. Some musicians improvised bass chords by using piano or harpsichord.
Johann Sebastian Bach
George Frideric Handel
Antonio Vivaldi
Henry Purcell
Georg Philipp Telemann
Jean Baptiste Lully
Domenico Scarlatti
Jean Philippe Rameau
Johann Pachelbel
Tomaso Albinoni
4. Classical (1750 – 1830)
The term classical has two broad meanings. It refers to the period between 1750 and 1830 and western music from the Medieval period to the early 2000s. All the classical music periods are known for something unique; the classical era is mainly known for musical structure clarity. The piano sonata, symphony, trio, quartet, and concerto also became very popular.
However, the classical period did not add a lot of instruments. The focus was mainly on improving what was already there. The piano or fortepiano mainly replaced the harpsichord. Plus, notable composers during this era included some of the musical giants that are still recognized today.
Famous Classical Composers
Wolfgang Amadeus Mozart
Franz Schubert
Joseph Haydn
Christoph Willibald Gluck
Ludwig van Beethoven
Johann Sebastian Bach
Gaetano Donizetti
Niccolo Peninini
Gioachino Rossini
George Frideric Handel
5. Early Romantic (1830 – 1860)
The early Romantic movement or Romanticism comprised a lot of art mediums, including painting and literature. In terms of music, the era led to a status shift mainly in the role of composers. The composers became independent artists.
The emotional range of music was wide, leading to the rise of some of the best composers of all time. Most of them decided to let go of heavily structured music pieces and focus on emotion and drama. The piano was one of the main instruments in the classical era.
During this period, the piano underwent many developments and changes that led to new creativity in musical expression. These changes continued into the late Romantic period. Unlike other classical music eras, the Early Romantic was short-lived; it only lasted three decades.
Famous Early Romantic Composers
Frederic Chopin
Robert Schumann
Felix Mendelssohn
Franz Liszt
Hector Berlioz
Giuseppe Verdi
Clara Schumann
Giacomo Puccini
Fanny Mendelssohn
Gioachino Rossini
6. Late Romantic (1860 – 1920)
The Romantic classical music periods had a lot of new genres, including rhapsody. Like the early romantic era, composers focused on drama continuity. With orchestras growing in numbers, composers experimented in so many ways, especially with instruments.
The new horizons in harmony were part of the highlights in this era. The saxophone, which gained a lot of prominence in the following century, was linked to the late Romantic period. The notable musicians and composers came up with great music programs and character pieces.
The instrument music could relay ideas and even narrate an entire story. National music schools began to appear during the Romantic period. Plus, it was the golden era of the virtuoso.
Famous Romantic Composers
Hector Berlioz
Pyotr Ilyich Tchaikovsky
Franz Liszt
Edvard Greg
Gabriele Faure
Gustav Mahler
Sergei Rachmaninoff
Claude Debussy
Edward Elgar
Maurice Ravel
7. Post 'Great War' Years (1920 – Present)
After the great war, composers started to pull in different directions. Many composers used classical music but with new instruments. Others dived into more diverse styles, giving birth to new forms called contemporary or postmodern. Because of these changes, the lines between classical music and other forms like jazz and rock became a blur.
As a matter of fact, this period led to the different genres that still exist in the modern era. Almost everything was advanced, from the instruments to musical performances.
Famous 20th Century Composers
Below are some of the most famous composers of the 20th century.
Igor Stravinsky
Arnold Schoenberg
Benjamin Britten
Dmitri Shostakovich
George Gershwin
John Cage
Leonard Bernstein
Ralph Vaughan Williams
Maurice Ravel
Aaron Copland
Conclusion
These are the main classical music eras that highlight all the musical advancements from the past. All these composers have worked to transform classical music into what it is today. Understanding the stages will make you appreciate the art even more. Every era has something to contribute to the music you listen to right now.