Mozart was an absolute prodigy and an influential factor in classical music. He created music for every one like symphonies, opera, concertos or piano...
The violin has long been one of the most prominent musical instruments in use, and some would argue that this instrument is the third...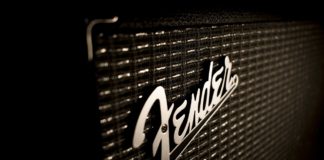 If you are a player with an electric violin, you would always want your performance to be heard. Even when you are just rehearsing...
Violins and violas are delicate instruments so you want to make sure that they are always stored properly, but sometimes storing them in their...
Buying the right double bass strings is important in order to play beautiful music. To help you find the best strings for your double bass, we have reviewed and ranked the best double bass strings available on the market below. Bass strings are one of the most important parts of the double bass as they, when combined with a bow, produce the deep sounds that double basses are known for. In order to get the best sound, you need the best double bass strings. Given how unique each double bass is, there is no one "best double bass string" solution. It is...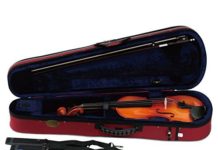 For kids who want start playing an instrument at an early age, you should find the appropriate violins that would suit your skill and your size. Kids violins are specifically designed to suit your needs and capabilities, hence you should buy the best kids violin that will fit your student. Before you are able to start playing, you should first find yourself a kids violin. This way, you can constantly practice the mechanism of playing such instrument. In this article, we have listed ten of the best kids violins which you could find on the market. Be able to review...
Concert ukuleles are brilliant instruments to play with due to the sound they produce and their ease of use. They are also noted for their way of being played. Whether you are an amateur or a professional ukulele player, you should be mindful of the safety and security of your instrument especially when it is not being used. Because of this, you should consider buying yourself the best concert ukulele cases. Because of the surge of the supply of concert ukulele cases in the market, it could be difficult for you to find the ideal product to suit your taste....
We want to improve at playing our instruments. We know that practice is essential. We generally know our strengths and weaknesses. We have a place to practice. Is that all we need? Nope. The Five Resource Areas There are a number of essential tools and resource areas for consistent progress. There are physical things, the music we are working on, a team to help us, a good mental framework and attitude and the time to make it happen. Let's look more closely at each of those areas. 1. Your Stuff Here's a list of things you need in your practice space. They could either...
If you are a player who owns a standard classical violin, you would always want your music to be heard whenever and wherever you are performing. Violin microphones can help amplify your sound when you are performing on stage. They are also great for recording studios so that you can isolate the sound of your violin. While you can always use a violin pickup, violin microphones tend to capture a more natural sound of the violin. You could also always to choose to get an electric violin. Should you choose to use a violin mic, there are a lot of...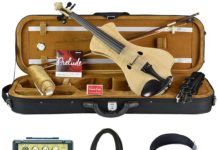 While traditional violins are classy and sleek, an electric violin should be a staple of a violinist's collection due to their cool design and sounds. Electric violins are favored by many of today's violinists because they deliver a much more progressive sound which can be used in various contemporary songs. They also sound great by themselves! An added benefit of electric violins (also known as silent violins) is that you can practice your violin without disturbing others. You can use headphones instead of an amp to play the electric violin so you can practice whenever you want, even at 3am! While...
Buying the best cello strings that make your cello sound amazing can be challenging when there are so many options on the market. Cellists tend to spend the most time of any stringed instrument players finding the right strings for their instrument because strings affect the sound of cellos more so than they do for violins and violas. We have reviewed and ranked the best cello strings available below to make your search for the best cello strings that much easier. Our #1 cello string recommendation this year is Pirastro Evah Pirazzi Gold. There is no one cello string that sounds great on all...
While acoustic violins generally get all of the attention, electric violins are instruments that can wow an audience. These violins can be made to sound like almost anything you want since their sound is all digital. One of the best makers of electric violins is none other than Yamaha, maker of many other great instruments. In this article, we'll show you the best Yamaha electric violins so you can start playing the electric violin from a quality brand. If you want to see what other electric violin brands we recommend, check out our guide on the best electric violins. Best Yamaha...
Cellos are very delicate instruments that can get scratched or broken very easily due to their size and weight. Even if you are extremely careful with your cello, storing and carrying it in a cello bag may lead to damage if the cello accidentally bumps into a wall or drops. That's where hard cello cases come into play. We're going to talk about the best hard cello cases that are available on the market. When picking your cello case or gig bag, consider how you will be carrying your cello and how often. If you fly a lot buy one of the...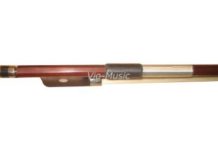 A viola bow is one of a fundamental thing that a player should possess aside from the instrument itself. Having the right viola bow could either make or break a violist's performance, making it a crucial part of a player's ensemble equipment. Since there are a lot of viola bows on the market, a young viola player might find it challenging to determine which among the viola bows is the best to use. Hence, violists should consider several features which would help them decide on the most appropriate viola bow for their instrument. On this article, we are going...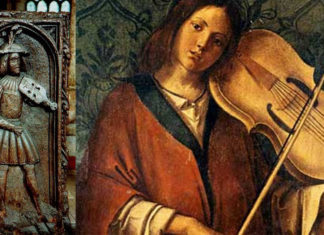 The violin has long been one of the most prominent musical instruments in use, and some would argue that this instrument is the third...
If you've thought about learning the cello, then this guide will help you get started. We will cover the basics of buying a cello...