Playing the cello can be challenging at first, but it is possible to become a skilled player at any age! While traditional, in-person musical instruction has benefits, many online cello lessons offer a comprehensive and flexible learning experience. The question now is where to learn cello online.
You don't have to look anywhere else because we've compiled the 13 best places to learn cello online based on the available programs, syllabus, and duration of the course.
The Cello Academy with Hans Zentgraf provides free, unlimited access to online cello lessons. The instructional videos are approximately 15-minutes long, and they cover a wide range of topics from the proper positioning to tuning and scales.
Expert cellist and master teacher Hans Zentgraf has a well-developed understanding of classical music that provides both beginner and advanced students the opportunity to develop good cello techniques and repertoire. If you desire more in-depth instruction, private lessons are also available for a fee.
Cello Online is a free website organized into six categories containing various links to topics like positioning, tuning, rosin application, and more. In addition, there is a section dedicated to fundamental music theory subjects such as note naming, scales, reading music, counting rhythms, and more.
The content is concise and easy to read, making it simple for beginners to get started. When necessary, instructions also include illustrations. If you want to take advantage of live instruction, there is also a page to help you locate a cello teacher.
Founded by Paul Katz, Cello Bello is one of the best places to learn cello online. It is a free resource consisting of several cello instructors that help you earn how to play or improve your existing skills.
Cello lessons are available via embedded videos on the site, so you don't have to download special software or additional materials. Regardless of your skill level, there are lessons to address whatever skill you need to learn.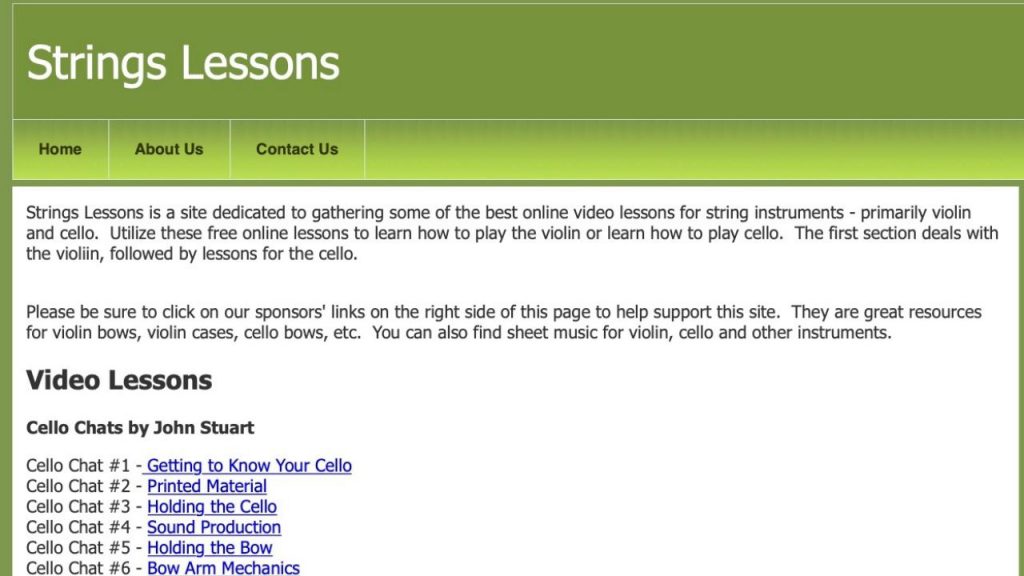 Strings Lessons is a free, directory-style website that provides pre-recorded, video lessons in cello instruction.
Cellist and music teacher John Stuart structures cello lessons to accommodate young and older learners alike. In the beginning, you will learn basics such as how to hold the cello and proper bow-arm technique. These fundamentals provide you with the foundation to build confidence and skill.
Lessons then progress to other practical aspects to help you start playing your first songs on the cello. Other topics covered include harmonics, bow changes, left-hand techniques, vibrato techniques, string crossings, basic music theory, and more. In addition to video lessons, you also have access to printed resources.
Artist Works is an online platform that provides classical and contemporary instruction for various instruments, including the cello.
Instructor Mike Block is a classically trained cellist and composer who holds a degree from the Julliard School of Music. Memberships are available in 3-month, 6-month, or 12-month options. The course library contains hundreds of video lessons that allow you to self-pace your learning. No experience is needed to get started, and the content is constantly updated to help you get the most out of your membership.
Artist Works also provides you with the unique opportunity to submit videos for instructional review. Mike Block reviews each submission and then records a response that offers you tailored guidance and recommendations.
Founded in 2001 by Edward Bradley, Musika offers online music lessons from qualified instructors worldwide. Many of the instructors have received training from prestigious institutions such as Julliard, and they are also active performers in orchestras.
Free trial lessons are available with any of the instructors. If you are satisfied after the trial, you can pay for future sessions with the selected instructor.
Takelessons is an online tutoring resource for a variety of subjects, including the cello. Lessons are available across different budget options, and you can book lessons with the teacher of your choice directly through the website.
Each listing includes a picture of the teacher, star rating, and the price per 30-min session. The teachers have unique backgrounds and experiences that will provide you with a diversified learning experience.
Another great option to learn cello online is Lessonface. It features listings for music teacher listings for a variety of instruments, including the cello. Each teacher is subject to a full background check before being listed on the site. The profile pages include experience and also features reviews from previous students. Instructors set their rates, and many offer a trial lesson before you commit.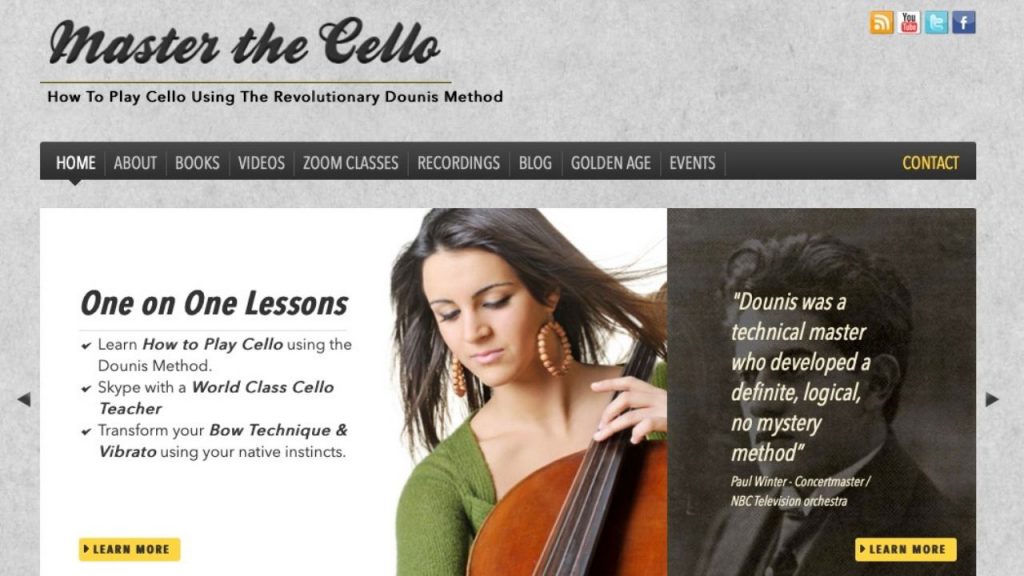 Founded by accomplished cellist Byron Duckwall, Master the Cello is committed to teaching people of all ages and skill levels how to play the cello.
The lessons incorporate the famous Dounis Method into instruction. Developed by D.C. Dounis around 1921, the Dounis Method is an instructional method for strings that focuses on natural, ergonomic playing styles based on time-tested techniques. While there is some focus on music theory, most of the lessons focus on practical instruction. More than 50 video streams and over one hundred exercises include in-depth explanations that help you gain skill and confidence as you tap into your natural abilities.
The videos do require a separate Vimeo account, which is free. If you desire more focused instruction, you can also sign up for 60-minute Skype lessons with Byron Duckwall. The one-on-one lessons are available at three levels: New Students, Professional, and Masterclass.
Natasha Jaffe is a classically trained cello instructor based in Berlin, Germany. Lessons are available via Skype in primarily English and German, but they are also available in Spanish, Portuguese and French. Classes are offered at beginner, intermediate and advanced levels for students of all ages.
You have the option to purchase lessons in three different packages: Trial, Single, and 4-Pack. Initially, you will learn the classical cello technique to get a better feel for the instrument, but once you have learned the classical style, you will transition to more contemporary styles.
Regardless of your skill level, Olga Redkina has lessons that can help you. The online, 4-part training course consists of over 400 videos, exercises, and other resources that allow you to learn at a self-paced rate. Subscription packages are available in 1 month,3-month, or 12-month options. Paid members have full, on-demand access to all video lessons in the course at any time.
If you desire more personalized lessons, Olga Redkina also offers Skype lessons. Skype lessons are available at the beginner, intermediate and advanced levels, and each includes a free trial option.
Taught by Julliard graduate Benjamin Fryxell, this course is offered on the popular online learning platform Udemy. Topics include an introductory history of the cello, anatomy, how to choose a cello, necessary accessories, set up, and care. Practical subjects include basic bow techniques, left-hand techniques, and warm-up tips.
If you need fundamental instruction in music theory, Benjamin Fryxell also has a free companion course on music theory basics such as reading music, rhythm fundamentals, and scales.
Play With Pro is an online platform offering one-on-one music lessons with qualified instructors from around the world.
Several cello instructors on the site offer lessons for beginner and advanced learners alike. Many of the teachers are working performers with notable playing and teaching experience. Each listing features a profile page that includes the teacher's experience, and you will also be able to see reviews of former students.
You can book your cello lesson directly on the website, and some teachers even offer a free trial lesson! As a bonus, you can rewatch lessons anytime, and you can also chat with your teacher for extra help.
Play with Pro also offers pre-recorded masterclasses for various instruments. Cello Fundamentals with Ralph Kirshbaum contains 18 video lessons covering cello basics.
How to Choose the Right Online Cello Lesson for You
As musicians constantly find innovative ways to express themselves, the cello will continue to delight music lovers for years to come. Like many instruments, learning the cello online requires consistent practice and learning. With sincere dedication, however, you will not only learn how to play the cello, but you will also become proficient and develop your unique style of self-expression.
Have a Goal of What You Learn from Your Online Cello Lessons
Before starting to learn cello online, you should have a definite goal in mind. What is it that you want to achieve by learning this instrument? And what are the possible obstacles standing in the way? This is very important because you should have an idea of the things you want to achieve and the methods you are willing to apply to reach your goals. These two are very important in helping you learn everything about the learning process.
Once you have these questions ready, the next thing that you need to do is to find the best possible place online that offers courses for beginners. The best site should offer step-by-step tutorials that will help you learn the basics of playing the instrument and instruct you on how to handle it. This will give you all the confidence you need to start learning how to play. In addition, some online courses offer videos that will show you how to use the different parts of the instrument. With the videos, you will be able to familiarize yourself with the details and the entire process of learning how to play. It is also a good way for you to familiarize yourself with reading music.
As a member of the violin family, the cello has fascinated music lovers for centuries. Its vibrant, rich, and somber tone matches the pitch of the human voice more closely than any other instrument in the string family. This unique trait is one reason many people want to learn cello online.
Be Willing to Practice Hard and Have Patience
It may take you some time before you can get to the point wherein you can play the instrument without reading from a book. Therefore, it is always best to start learning the basics, such as reading chords and reading notes. In most cases, you can find the best online courses for beginners in music theory. Knowing this can take a long time, but it is worthwhile once you have already mastered it.
Important Notes About Learning the Cello
In learning the art of playing the cello, it is also essential to have the best tools at your disposal. One of these is the online tutorial. There are a lot of websites that offer online cello lessons that you can learn. You should choose the website wisely because many websites will only cause you frustration. Spend time researching the best websites that can provide you with great lessons for beginners.
Find Cello Lessons Online
Learning the art of playing the cello online can be easy. First, you have to make sure that you are getting the right information from the website. You can learn how to read notes and chords as well as how to read music. This will enable you to familiarize yourself with the instrument and will allow you to proceed with your training faster.
Note What Level of Instruction They Teach
Another thing that you should consider when looking for the best place to learn cello is the level of instruction offered. Some lessons will only get you a short lesson and will then leave you hanging after that. It is important to look for websites that offer different levels of instruction so that you can pick the one that is most suitable for you. If you are learning it from professionals, they should explain things step by step to learn from the best possible source. Look out for websites that offer step-by-step instructions so that you can have complete guidance when learning the instrument.
Target Cello Lessons
If you want to know the best place to learn the cello, look no further than the internet. There are a lot of websites that offer great information about the cello. If you want to know the instrument better, you should consider getting information from these sites. They will provide you with information and help you practice if you are a beginner. This will help you get to know the instrument better and enhance your skillset when you start learning the instrument. Also, look for websites that offer step-by-step instructions so that you can start learning today.
Find the Right Instructor for You
If you're considering taking up the art of playing the cello, you'll also want to find a good cello instructor. In fact, if you decide to pursue playing the cello professionally, you must get trained by someone who is considered an expert in the field. Some cellists feel that they can teach themselves how to play, but this isn't exactly what you need to have happened. You want to find a cello instructor that will give you the best training that you'll need to be a successful cellist.
So, how do you go about finding a good cello instructor?
One way to find a good cello instructor is to get recommendations from friends that play. Cellists usually listen to their friends and ask for advice when it comes to getting trained. This is a great idea because these talented cellists can usually share with you all of the information that they've been through and learned from. So, if you have some really close friends who play, you should definitely try and work together with them to find a cello instructor.
Other Notes
Of course, if you don't have any close cellists or friends who play, then you'll have to rely on other resources. The Internet is a great resource for finding cellists who are experienced and skilled. If you do some research online, you'll certainly come across many cellists who are willing to take lessons and teach you. Just be sure to get your cello instruction from an experienced cellist, whether a teacher or not. You'll benefit greatly from their experience.
Conclusion
Whether you are a complete beginner or want to expand your cello skills, there are many free and paid resources to learn cello online. And once you find the right instructor for you, you'll be well on your way to becoming a great cello player you've always dreamed of.