There are plenty of outstanding composers worldwide, and the Czech Republic happens to have plenty of them. Antonin Dvořák is one of the most famous composers, but there are plenty of other outstanding composers from the Czech. Read on to learn more about some of the greatest Czech composers.
Who Are the Greatest Czech Composers?
1. Antonín Dvořák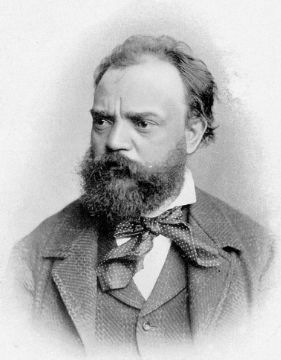 Antonin Dvořák was a Romantic Era composer born in 1841 in Nelahozeves, north of Prague. By the time he was six years old, he had already started showing signs of being gifted musically.
He moved to Zlonice, Bohemia, at age 12 to pursue his musical studies. While he began as a violinist, his own pieces were not performed until later in 1872. He started receiving international recognition two years after.
The music Dvořák composed was quite diverse, including operas, chamber music, symphonies, and choral pieces. He was among the first Czech composers to achieve global recognition. He traveled internationally and premiered his pieces in different European countries.
His progressiveness and creativity earned him distinction throughout his life span and made him one of the greatest Czech composers.
One of his most recognizable classical music pieces is 'New World Symphony.' Cello Concerto, Slavonic Dances, the Rusalka Opera, and Stabat Mater are his other great works. You cannot talk about Czech composers without mentioning Dvořák. He died of flu complications in 1904.
2. Bedřich Smetana
Bedřich Smetana is also known as the 'father of Czech music' since he pioneered his style. He was born in 1824 in Litomyšl, and he could play the violin before he began school. Bedřich went ahead to study music in Prague.
He composed, performed as a piano virtuoso, taught music, and traveled around Europe during his life. He was also a leading representative of Czech culture and Czech national music.
His opera 'The Bartered Bride' and Má vlast symphony are some of his most famous works. Bedřich's music got mixed reviews in the entirety of his career. However, he kept composing even as his health began declining, and it was at this point, he got the most recognition in his career.
Some would argue that while Dvořák is recognized globally, locally, Bedřich was the most influential composer. He had a mental health crisis in the early 1880s which led to his institutionalization in 1884, and a couple of months later, he died of syphilis.
3. Agnes Tyrrell
Agnes Tyrrell was a pianist and Czech composer who was born in Brno, Moravia, in 1846. Her first recital performance was when she was nine years old, and at sixteen, she went to Conservatory in Vienna.
Tyrrell is among the few females who composed symphony before the 1900s, and she published her first composition in 1872. She composed more than 300 works for voice, chamber ensemble, orchestra, and solo instrument.
The prelude to Tyrrell's oratorio Die Könige in Israel is one of her works that depict her expertise in creating dramatic music that has thick sparkling textures. Her other works include Andante, op.6, Grand Sonata, op.6, Bertran de Born, opera, and Mazurka for Orchestra.
She died at the age of 36 in Brno.
4. Leoš Janáček
Leoš Janáček was born in Hukvaldy, Moravia, in 1854 and is one of the greatest Czech composers with global recognition.
He started displaying his musical talent at a young age through choral singing and proved to be a talented pianist when he began studying music. He decided to commit to music composition in the early 1870s.
Janáček was a teacher, publicist, folklorist, musical theorist, and composer. His style was original and pretty distinct. While Janáček's affinities lied in writing piano pieces and choral, his most renowned works were his operas. His most famous works include Glagolitic Mass, The Cunning Vixen, Káťa Kabanová, and Jenůfa.
There is an annual festival that honors his music in his hometown.

He got pneumonia in 1928 while on vacation and died a couple of weeks after.
5. Jan Dismas Zelenka
Jan Dismas Zelenka is a Baroque Era composer who was born in 1679 in Louňovice pod Blaníkem. In 1715 and 1716, Zelenka studied music in Vienna and Venice.
He started as a musician playing the violone, but it is not clear when he began composing. However, he was recognized for writing creative harmonies and mostly composed litanies, hymns, and primary masses. Zelenka spent most of his career in Dresden and Vienna.
Although much of his work was lost through the ages, his most influential pieces stayed intact, including "Missa Votiva", "Missa Sanctissimae Trinitatis", and "Sub olea pacis et palma virtutis". He became close with fellow composers Telemann and Bach later in life.
At the end of 1745, he died of dropsy.
6. Josef Mysliveček
Josef Mysliveček was a classical composer born in Prague in 1737 and is known to have been Mozart's mentor of sorts. Because of this, a lot of the early pieces of Mozart are compared to his work.
His family owned a prosperous mill, where he began his early career, but in the early 1760s, he decided to become a classical composer.
Mysliveček was among one of the most famous Czech composers because of his operas. Most of his career was spent in Italy as a composer, and he created diverse works, including concertos, chamber music, oratorios, symphonies, and opera serie. His cherished compositions include Isacco figura del Redentore, II Bellerofonte, and 6 strings Quintets.
While he was from a wealthy family and successful, Mysliveček was not good at fostering relationships and was also financially irresponsible. In 1781, he died broke and alone.
7. Bohuslav Martinů
Bohuslav Martinů was a Modern Era composer who was born in 1890 in Polička. Although Martinů was a shy and sickly child, he had a strong passion for the violin.
At 15 years old, he began performing public concerts, but it was not until 1907 that he began releasing his compositions. He studied composition in Paris and organ and violin at Prague conservatory. Musically, he trained in romanticism, but broke away and created his style.
Martinů taught music and was a prolific composer who released more than 400 pieces, including operas, ballets, orchestral works, concertos, and chamber music. His beloved pieces include Memorial to Lidice, Violin Concerta No.2, and Symphony No.4. Throughout his career, he spent time in the US, France, and Prague.
He developed gastric cancer and died in Switzerland in 1959.
8. Julius Fučík
Julius Fučík was born in 1872 in Prague, Bohemia. He was Dvořák's student and a multi-instrumentalist who played several percussion instruments, violin, and bassoon. Stylistically, Fučík was usually compared to John Philip Sousa and was popularly known for his polkas, waltzes, and marches.
Some of his most famous pieces include The Florentiner March and Entrance Of The Gladiators. Fučík managed to move around a bit during his life. However, he struggled to succeed in the bigger cities away from his home. He was primarily successful in Berlin and Prague.
Most of Fučík's works were created for military bands, and as a result, he is also referred to as the 'Bohemian Sousa.' Today in the Czech Republic, some of his work is played as patriotic music. He started a band and a music publishing company when he settled in Berlin in 1913.
At the start of World War I, both his success and health declined. He died in 1916.
9. Vítězslava Kaprálová
Vítězslava Kaprálová was born in 195 in Brno. You can say music ran in the family because she was the daughter of the singer Vikitorie Kaprálová and the composer Václav Kaprál. In addition to being a composer, she was also a conductor. However, Kaprálová, unlike most of the greatest Czech composers, was not known to play any instruments.
She is among the few female composers, and she composed different kinds of pieces. For instance, a few of her most beloved works include Waving Farewell, Trio for Bassoon, Clarinet and Oboe, Dubnová preludia, and Military Sinfonietta. Although she was active for a relatively short period, she was considered a prolific composer through that period.
Unfortunately, Kaprálová had a short life. She was misdiagnosed with miliary tuberculosis when she fell ill, which led to her death at just 25 years old, not long after 1940. This also happened a little while after she had just gotten married.
10. Peter Eben
Peter Eben was a modern composer who was born in 1929 in Žamberk. Eben began learning the organ, cello, and piano in his youth. However, he was captured by the Nazis in 1943, bringing his musical career to a halt. After being imprisoned in Buchenwald, he was released in 1945 at the end of World War II.
After his release, Eben began studying at the Prague Academy for Music. He shortly started composing, and in 1950, he released his first piece. In his adulthood, he refused to join any political parties due to his experiences as a youth. This limited his chances of advancing for most of his career.
But even with this hindrance, his music still managed to be famous globally. He spent his life as an adult composing different kinds of pieces. A few of his most popular works include Pražské nokturno, Kletby a dobrořečení, Apologia Socratus, Posvátná znamení, and Concerto for Piano and Orchestra.
He lived a fairly long life. In 2007, he died of a stroke.
Conclusion
Over the years, the Czech Republic has produced some of the greatest Czech composers. There is no shortage of talented composers from the country, whether you prefer modern music or classical music. There are plenty of other great composers from the Czech. You can check out and sample each of the listed composer's work on YouTube if you have not already.