These famous tuba players are known in the music industry for their talents, impeccable performances, and influence to inspire tuba students. Who are these tuba players and what are their accomplishments? You'll soon find out! We've also included a video of their popular recordings so you can see how talented they are!
Roger Bobo
Roger Bobo is an American tubist that many students and fans consider one of the most famous tuba players in the world. And, his interest in the brass instrument began when his high school teacher gave him a tuba.
From then on, Roger pursued brass and graduated from Eastman School of Music. He later then became the tuba player of the Rochester Philharmonic. He also played for the Los Angeles Philharmonic Orchestra and the Royal Concertgebouw in Amsterdam.
Today, Roger is a teacher of brass instruments and gives helpful lessons worldwide. He also penned the book "Mastering the Tuba," which gives instructions on how to master technical skills and enhance your tuba playing ability.
Charles Daellenbach
Charles Daellenbach is an American-Canadian tuba player that many consider not only one of the most famous tuba players but also influential.
His father gave him daily music lessons as a child back in Wisconsin. He then attended Eastman School of Music and graduated with a Ph.D. at the young age of 25. And, Daellenbach didn't stop there.
He then proceeded to teach music at the University of Toronto. There, he met with Gene Watts, and together they created the Canadian Brass, which is known for its unique character and a new model of stage presentation.
Charles has over 600 standard repertoire works for brass quintets. He also has an educational series that sold nearly a million copies around the world. And his recording company, Opening Day Entertainment, has produced 73 CDs and DVDs. Three of these albums have made it to Billboard hits' top ten.
He was made a Member of The Order of Canada because of his efforts to popularize classical music as the founder of the Canadian Brass.
Arnold Jacobs
Arnold Jacobs was born in a musical family – his mother was a keyboard player. Although he did not pursue the same instrument, Jacobs transitioned from bugle to trumpet and finally the tuba.
He attended Philadelphia's Curtis Institute of Music as a teenager and continued to major in tuba.
Jacobs then played in the Indianapolis Symphony for two seasons under Fabien Sevitzky. He was also the tuba player of the Pittsburgh Symphony and was able to tour the country with Leopold Stokowski and the All-American Youth Orchestra. He also had the honor of being the first tuba player to be invited to play at the Casals Festival in Puerto Rico.
Jacobs was the founding member of the Chicago Symphony Brass Quintet. He taught tuba at Northwest University and other musical instruments in his private studio.
James Gourlay
James was born in Scotland and began to play brass at an early age.
He studied tuba performance at the Royal College of Music and became the principal tuba of the City of Birmingham Symphony Orchestra. He then proceeded to be the principal tuba at the BBC Symphony Orchestra. After this, he was invited to be the solo tuba player of the Zurich Opera House Orchestra in Switzerland.
James has won the Swiss National Championship and the Swiss Open Contest four times.
He is the General Director of Pittsburgh's River City Brass and the Director of Instrumental Music and University Bands at Wheeling Jesuit University, West Virginia. James has commissioned more than fifty solo works for tuba. He also works with some of the world's leading brass groups as a conductor.
Velvet Brown
Velvet is one of the most distinguished and famous players based in the United States.
Velvet was the principal tuba player for the River City Brass Band and is currently part of the New Hampshire Music Festival Orchestra. She is also the co-founder of MOJATUBA and a founding board member of the International Women's Brass Conference.
Velvet is not only a performer; she is also a teacher and a recording artist. She teaches applied tuba and euphonium and advocates for inclusivity in the School of Music so that students from all backgrounds can enjoy music lessons.
As a recording artist, she has produced five solo CDs and collaborated on several other recordings.
She has also started an authentic music renaissance that involves soul-searching musical patterns. Velvet is a performing artist for Denis Wick Products.
Patrick Sheridan
Patrick is one of the most versatile and famous tuba players known worldwide. He has graced venues such as the White House and the Hollywood Bowl. He also has made several appearances on television and radio programs such as NBC's "Today Show" and NPR's "All Things Considered" and "Performance Today."
Sheridan was an educator as well. He was the Director of the UCLA Wind Ensemble, the UCLA Brass Ensemble and taught the tuba and the euphonium at the University of California. He also participates in university bands, high school bands, and middle school bands as a guest conductor.
Yasuhito Sugiyama
Yasuhito Sugiyama is a Japanese tuba player who has achieved a lot in his career. He started with the trumpet but was later convinced by an older tuba player to try playing the tuba. Since then, Sugiyama never looked back.
He attended Soai University in Tokyo, where he had the privilege to study with Shuzo Karakawa of Osaka Philharmonic. For a year, Sugiyama was a guest player for the Kyoto Symphony Orchestra. He, later on, joined the Osaka Philharmonic Orchestra for their Europe tour. Sugiyama was also a member Vienna State Opera Orchestra and the Cleveland Orchestra.
Sugiyama's other accomplishments include:
First Asian to audition for Wiener Staatsoper Orchestra and succeed.
st prize in Japan Wind and Percussion Competition in the tuba category.
Watch one of the most famous tube players, Yasuhito Sugiyama, in action:
Carol Jantsch
Also one of the most famous tuba players is Carol Jantsch.
She attended Interlochen Arts Academy and later joined the University of Michigan. She is the principal tuba player of The Philadelphia Orchestra, a position she won during her senior year at the University of Michigan. This made her the first woman tuba player in The Philadelphia Orchestra.
Jantsch has also appeared with ensembles such as the Colombus Symphony and the United States Marine Band. Currently, Jantsch is a teacher at Yale University School of Music and Temple University's Boyer College of Music. She also had tuba clinics in Asia, Europe, and North America.
She is also the host of the Rising Podcast, which is a platform for the young brass players to air their ideas on crucial topics such as mental health. Carol has released two solo recordings and one album.
Sam Pilafian
Sam was an American tuba player who graced the stage with his amazing talent. He was uniquely skilled such that he could add his tuba to different genres such as pop.
Sam won the Concerto Competition at Interlochen, becoming the second soloist to do so after fifty years. After his captivating performance, he was chosen to perform in the first production of Bernstein's Mass at the Kennedy Center for the Performing Arts. He was also awarded scholarships to study at Dartmouth College and the Tanglewood Music Center.
He was the founder of the Empire Express and was also a board member of the Tubists Universal Brotherhood Association. Sam was able to record and play with the Boston Symphony, the Metropolitan Opera, and Pink Floyd. He was also a professor at different universities such as Boston University, the University of Miami Frost School of Music, and Arizona State University.
Gene Pokorny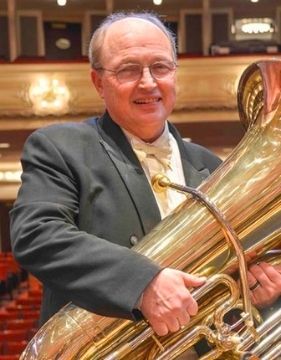 Pokorny, an American tuba player, is a well-admired chamber musician and one of the most famous tuba players today.
He attended the University of Southern California and was awarded the alumnus award from USC. After graduating, he performed with orchestras such as the Utah Symphony, Chicago Symphony Orchestra, Israel Philharmonic, and Saint Louis Symphony Orchestra.
Aside from playing for world-renowned orchestras, Pokorny was involved in movie soundtracks for Jurassic Park, The Fugitive, and The Nightmare Before Christmas. He also recorded solo and educational CDs. He has also been of help to Rolling Stones' trombonist, Michael Davis, in recording his educational workbook CDs. Pokorny also wrote a chapter on orchestral auditions for the Tuba Source Book.
Pokorny offers brass seminars and masterclasses at the University of Redlands.
Walter Hilgers
Hilgers is a conductor and a tuba player from Germany. He attended the Cologne University of Music and Dance, where he took tuba, double bass, and piano classes.
As a conductor, Hilgers has conducted chamber concerts for orchestras such as the German Radio Philharmonic Orchestra Saarbrücken Kaiserslautern, the Philharmonic Orchestra Qatar, the Philharmonic State Orchestra Hamburg, and the Daejeon Philharmonic Orchestra.
Hilgers and other members formed the German Brass ensemble and played with them for some time. His skills have opened doors for him in different European countries. He has recorded two solo CDs.
Øystein Baadsvik
Baadsvik was born in Trondheim, Norway. At the young age of 15, he was already playing the tuba at fifteen. He went on to win his first award at the age of eighteen in a competition of soloists. Baadsivik's accomplishments didn't stop there. He earned two prizes from Concours International d'Exécution Musicale.
He has performed with major orchestras such as the Bergen Philharmonic, Singapore Philharmonic, the Melbourne Symphony Orchestra, the Oslo Philharmonic Orchestra, and the Warsaw Philharmonic Orchestra.
Baadsvik holds tuba clinics in various universities around the world. He managed to do the first TED talk on the tuba. He also has his own YouTube channel that garners over six million views.
John Fletcher
John Fletcher is one of the most celebrated and famous tubists from England. As a matter of fact, he was a recipient of the International Tuba-Euphonium Association's highly-coveted Lifetime Achievement Award.
Fletcher has had a successful career, one being the principal tubist of the London Symphony Orchestra and the BBC Symphony Orchestra. He was also the founder of the Philip Jones Brass Ensemble. Unfortunately, succumbed to an untimely death from a massive cerebral hemorrhage.
Famous composer Leonard Salzedo dedicated a tuba and piano sonata to him.
Alan Baer
Baer is the principal tubaist for the New York Philharmonic and has performed and recorded with the New Orleans Symphony, the Cleveland Orchestra, and Milwaukee Symphony Orchestra.
He studied at the Indiana University of Pennsylvania. He was influenced to play the tuba by Tommy Johnson and Roger Bobo. Baer has been on tour in several countries in Europe and has been featured as a soloist.
He has taught at California State University, where he assembled and led the brass choir. He is currently a faculty member of three prestigious music schools – Manhattan School of Music, Rutgers and Julliard.
Who Are Your Favorite Professional Tuba Players?
And, there you have it. Our top choices for the most famous tuba players include Baer, Fletcher, Baadsvik, Hilgers, Pokorny, Pilafian, Jantsch, Sugiyama, Sheridan, Brown, Gourlay, Daellenbach, Jacobs, and Bobo. Did we miss someone? Let us know in the comments!
If you're interested in discovering other famous brass musicians, check our top trombone players.