These 11 famous trombone players are known for their distinct playing styles and contributions. Who are they? Let's find out in this article.
Who Are the Most Famous Trombone Players?
Our list of famous trombone players includes the likes of J.J. Johnson and Kai Winding. If you already know them, we've included other trombone players that deserve recognition.
1. J.J. Johnson (1924 – 2001)
J. J. Johnson is the most famous trombone player and even influenced other musicians like renowned saxophonist Lester Young.
He brought the bebop technique to the trombone, which was revolutionary and unheard of at that time. If you want to hear Johnson's signature trombone sound, you should listen to the song "So What" with Miles Davis.
He found success collaborating with fellow trombonist Kai Winding. One of their most popular albums is Jay & Kai + 6: The Jay and Kai Trombone Octet. In 1995, he was inducted into the DownBeat Hall of Fame.
2. Jack Teagarden (1905-1964)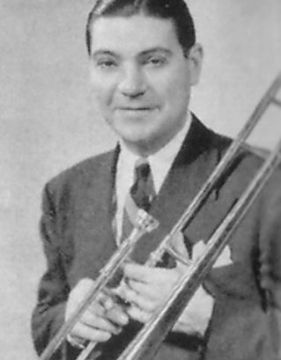 Jack Teagarden, or the "King of the Blues," is credited with modifying the trombone. Teagarden was mainly a self-taught trombonist but proven to be a master throughout his career. He played in big bands like Paul Whiteman's orchestra. He even collaborated with Red Nichols.
His most famous recordings are "Basin Street Blues" and "St. James Infirmary."
3. Kai Winding (1922 – 1983)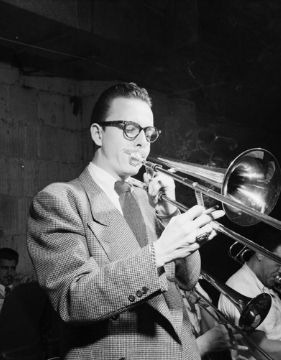 Kai Winding is a Danish-born American trombonist and jazz composer. He is well known for his duets with another famous trombonist, J. J. Johnson. His association with J. J. Johnson began in 1954. They became the two prominent jazz trombone players recording together.
Like Johnson, Winding collaborated with Miles Davis. He performed on four tracks of the landmark Birth of the Cool sessions. He also played with Benny Goodman's and Stan Kenton's orchestras.
One of the most famous recordings is "A Night in Tunisia" from their album Jay & Kai + 6: The Jay and Kai Trombone Octet.
4. Curtis Fuller (1932 – 2021)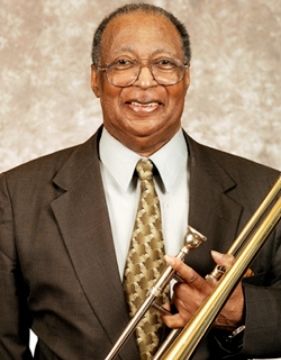 Curtis Fuller was a jazz trombonist whose broad sound supported every other wind instrument in the ensemble.
Fuller started on the trombone at the age of 16. He played in a public school in Detroit, Michigan, that included several future jazz superstars.
When he was in the army, he didn't stop playing. As a matter of fact, Fuller played with the Adderley brothers.
Fuller's extensive discography includes albums with Yusef Lateef and "Blue Train" with John Coltrane. In New York, he became a member of Art Blakey's Jazz Messengers. One of his most popular recordings with that group was "One for One" on the album Ugetsu.
In 1999, he received an honorary degree from the Berklee College of Music.
5. Joseph Alessi (1959 -)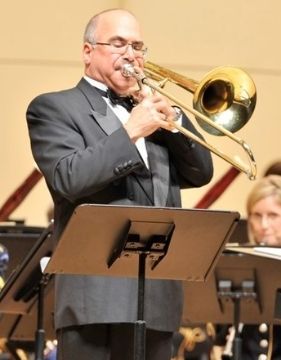 Joseph Alessi is a soloist and principal trombonist with the New York Philharmonic and a faculty member at the Juilliard School. He attended Curtis Institute of Music in Philadelphia from 1976 to 1980. And in 1985, he held principal chairs with several orchestras.
Alessi recorded "Trombone Concerto" by Christopher Rouse. In 1993, the composition won the Pulitzer Prize for Music. His 2001 Recording of Star-Child by George Crumb won the Grammy Award for Best Classical Contemporary Composition.
6. Frank Rosolino (1926 – 1978)
Frank Rosolino was a jazz trombonist and scat-singer that performed with several big bands. But he, later on, led his own group called the Frank Rosolino Quintet. Their most well-known recording was "Stardust." After the group disbanded, he toured with Stan Kenton's orchestra.
He relocated to Los Angeles, where he became a well-known studio musician. His most memorable performance is on Gene Krupa's hit single "Lemon Drop."
7. Arthur Pryor (1869 – 1942)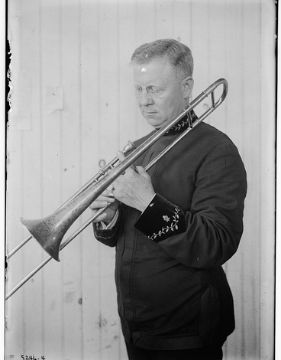 Arthur was the son of bandmaster Samuel Pryor. He learned how to play the valve trombone by age 11.
Pryor joined the John Philip Sousa Band in 1892 and served as the assistant conductor from 1895 to 1903, touring extensively. In 1902, he left the Sousa band to take over his father's Pryor band.
Pryor was a prolific composer, writing familiar trombone compositions such as "The Whistler and His Dog" and "Bluebells of Scotland."
8. Don Lusher (1923 – 2006)
Don Lusher, O.B.E., played with several big bands, including Ted Heath Big Band. In the 1970s, he formed his own band and held a position at the Royal College of Music. He was also named President of the British Trombone Society twice.
In 2002, he was honored with an O.B.E. for services to the music industry.
The Don Lusher Collection is an album that reflects decades of his funk and soul style.
9. Urbie Green (1926 – 2018)
No list of famous trombonists would be complete without mentioning Urbie Green. His smooth style and masterful technique made him an in-demand studio musician.
His musical influences included the vocal style of Perry Como and saxophonists Charlie Parker and Lester Young.
Two of his most popular albums as a solo artist are Blues and Other Shades of Green and Let's Face the Music and Dance. In 1995, he was inducted into the Alabama Jazz Hall of Fame.
10. Christian Lindberg (1958 -)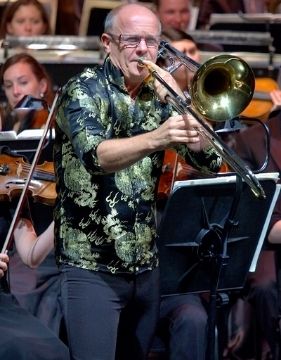 Lindberg was born and raised in Sweden. He attended the Royal Swedish Academy of Music and was playing professionally by age 18.
He's renowned for expanding the repertoire of contemporary trombone music. He's premiered over one hundred trombone concertos. Noted works include Luciano Berio's "Sequenza V" and "Motorbike Concerto" by Sandström.
Lindberg has received numerous awards, including the 1991 "International Trombone Association Award" and the 2004 "Litteris et Artibus." In 2016, he was named 'Artist of the Year' by the "International Classical Music Awards."
Lindberg currently serves as conductor and music director of the Israel Netanya Kibbutz Orchestra.
11. Melba Liston (1926 – 1999)
Melba Liston was a jazz trombonist and the first woman to play in the big bands of the 1940s. From the 1940s through to the 1970s, she worked as a player, arranger, and composer.
Randy Weston collaborated with her as an arranger on ten recordings, including Volcano Blues with Randy Weston.
While she was respected among her peers, including the lockers of Dizzy Gillespie, Count Basie and Billie Holiday, the music industry itself refused to promote a female trombonist. She gave up touring and settled into teaching.
In 1987, she was awarded the Jazz Masters Fellowship of the National Endowment for the Arts. Her skills were on full display when she recorded Melba Liston and Her Bones.
Conclusion
We hope this list of famous trombone players has entertained you and inspired you to seek more works from these extraordinary musicians.