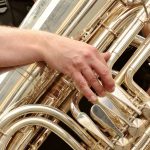 Many instruments are capable of producing tones over a wide range of pitches. However, there are a few instruments that produce tones that are...
The construction of an orchestra is a complex project, with several people taking leading roles. An orchestra is made up of several parts that...
Dubbed as one of the most expressive instruments, the violin creates a lot of stories from its tone alone. But there are more stories...