From songwriters, singers, and instrumentalists to piano players, these blind musicians achieved undeniable recognition and greatness with their musical talents, despite being blind.
Ronnie Milsap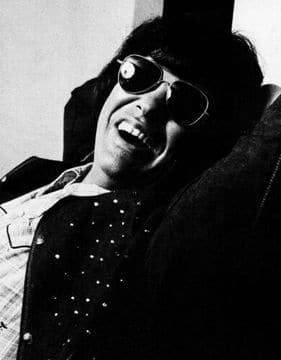 Ronnie Lee Milsap is one of country music's most popular crossover artists.
Suffering from a congenital disorder, Milsap was blind since birth. He was classically trained as a child at Governor Morehead School for the Blind. His breakthrough arrived in 1977 with his piano-and-vocals ballad, "It Was Almost Like a Song." However, it wasn't until 1981 that he crossed over into the pop music charts with "(There's) No Gettin' Over Me." At seventy-nine years old, Milsap continues to make music today. His newest album, A Better Word for Love, was released in 2021.
Stevie Wonder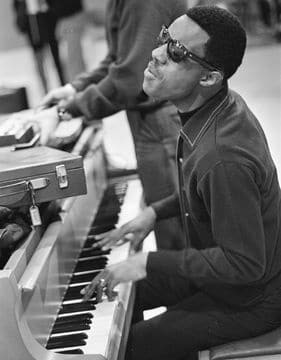 Stevie Wonder lost his eyesight as a premature infant after he developed retinopathy from the hospital incubator. At eleven years old, he was signed to Motown Records and released albums as the child act "Little" Stevie Wonder.
A few years later, he graduated from his child star status by abandoning his "Little" title and penned the hit song "Uptight (Everything's Alright)." He released many more hits over the next few decades, such as 1972's "Superstition" and 1984's "I Just Called to Say I Love You."
Along with his musical legacy, Wonder is known for his role in helping Martin Luther King, Jr.'s birthday become a national holiday. In 2014, Stevie Wonder was awarded the Presidential Medal of Freedom by then-president Barack Obama.
Louis Thomas Hardin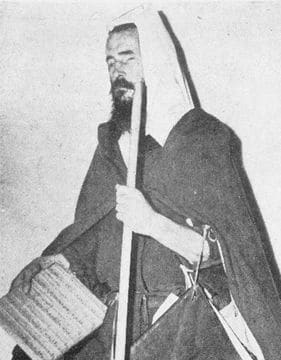 Widely known by his alternate identity, "Moondog," Louis Thomas Hardin was an American composer of avant-garde music.
He was a burgeoning percussionist when he lost his eyesight in 1932 from a dynamite accident. From there, his interest in music grew beyond percussion, and he trained himself to play various instruments by ear.
Hardin spent most of his career as a street musician in New York City. Between the '40s and '70s, he was often seen between 52nd and 55th Streets performing in his signature Viking cloak.
Rather than conventional styles of music, his recordings blended various genres and chapters of his life. Elements of his music include Native American flute music, jazz, ambient city sounds, and one-of-a-kind instruments of his invention.
Hardin moved to Germany in 1974 and resided there until he died in 1999.
Terri Gibbs
Like Stevie Wonder, Terri Gibbs was born premature and became blind from time spent in the incubator. Originally from Miami, Florida, Gibbs began playing piano and singing in the church choir as a child.
In 1981, she released her first single, "Somebody's Knockin'," and the subsequent hit, "Rich Man." That same year, she was awarded the Top New Female Vocalist Award by the Academy of Country Music.
In 1987, Gibbs pivoted her career to focus on Christian music. Today, she's in her late sixties and still releasing Christian albums.
Jose Feliciano
Jose Feliciano is best known for his song, "Feliz Navidad," but he's also one of the most famous blind musicians.
Born with congenital glaucoma, Feliciano attended The Light House School for the Blind, where he received his music training. He was signed to RCA in the early '60s and became widely known for his Latin-inspired folk-pop sound. In 1970, his popularity exploded after the release of his Christmas album.
Feliciano has stars on the Hollywood Walk of Fame and the Puerto Rican Wall of Fame. He continues to work on new music to this day.
Blind Willie Johnson
Blind Willie Johnson was a gospel and blues singer from the late '20s to the early '30s. However, he didn't receive any recognition until the American folk revival of the 1960s, which occurred after his death.
Johnson lost his sight sometime during childhood, but the exact cause is unknown. According to comments made by his widow, he may have been blinded by his stepmother in an acid attack.
Johnson's instrument of choice was the guitar, and he spent much of his time as a street musician and evangelist in Hearne, Texas. Between 1927 and 1930, he recorded a handful of religious songs for Columbia Records. From there, he performed small shows until he died in 1945. Today, music historians recognize him as a master of the slide guitar and the folk sound of pre-Depression America.
Lennie Tristano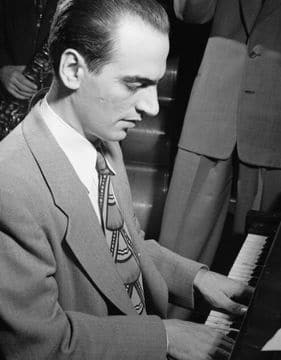 Jazz musician Lennie Tristano became blind at age nine from a combination of glaucoma and genetic factors. He played several instruments throughout his childhood, including the saxophone, clarinet, piano, trumpet, and guitar.
His interest in jazz triggered a move to New York City in 1946, and he spent the following decades playing saxophone and piano in various jazz ensembles.
Tristano was one of the early pioneers of improvisational jazz, but the bulk of his influence came from his teaching style. Thanks to a lifetime of training, Tristano is considered the first jazz teacher to emphasize structure and discipline.
Marcus Roberts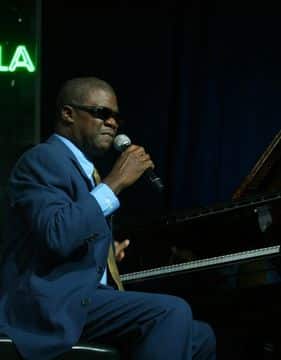 Marcus Roberts lost his sight at age five from complications related to glaucoma and cataracts. Around the same time, he taught himself how to play piano by ear.
Since the '80s, Roberts has performed in various bands, ensembles, and symphonies, displaying a talent for multiple styles. Along with performing, Roberts is a widely respected music teacher.
He is the current associate professor of jazz studies at the FSU College of Music. Like Beethoven and Mozart, many consider him a contemporary virtuoso within the professional music community. In 2014, he was profiled by 60 Minutes, making him one of the most famous blind musicians alive today.
George Shearing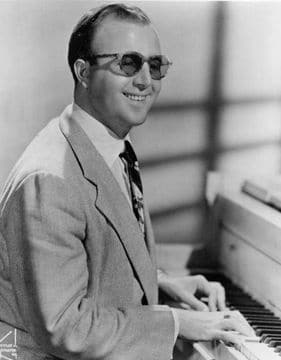 Jazz pianist George Shearing was born blind and formally trained in piano at the Linden Lodge School for the Blind.
After several years of performing in various jazz bands in his native England, he emigrated to the United States in the late 1940s. It was there that he developed the famous "Shearing Sound." This technique utilizes a five-note block chord to create a chorale-like sound and remains his most incredible legacy.
The BBC Jazz Awards gave shearing the 2003 Lifetime Achievement Award. A few years later, Queen Elizabeth II knighted him, making him one of the few blind musicians to do so.
As a loyal Englishman, Shearing split his time between England and the United States in his later years. In 2011, he passed in New York City from heart failure.
Joaquin Rodrigo
Joaquin Rodrigo is the composer behind Concierto de Aranjuez, a composition for classical guitar. Like "Für Elise" for piano students, Rodrigo's Concierto is one of the most commonly taught pieces for guitar students.
Originally from Spain, Joaquin Rodrigo was born in 1901 and became blind at age three from diphtheria. He wrote Concierto de Aranjuez in 1939, popularizing the Spanish guitar for worldwide audiences. Due to his blindness, Rodrigo could not read or transcribe musical notation. Instead, his manuscripts were all handwritten in braille.
In 1991, he was given a noble title by King Juan Carlos I. Rodrigo's daughter inherited this title after his death in 1999.
Jeff Healey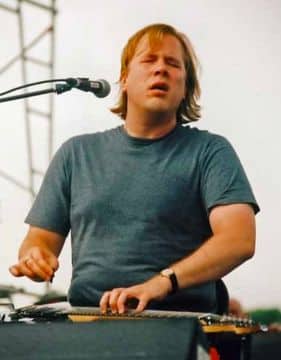 Jeff Healey lost his eyesight from a rare form of cancer when he was one year old. Amazingly, he taught himself how to play the guitar, eventually developing his own playing style.
This style entailed picking at the guitar strings while it was propped horizontally across his lap. In the '80s, he formed the Jeff Healey Band and performed covers and original songs in local pubs and bars. Their jam band-like sound resonated with the culture of the late '80s and emerging '90s. This eventually led to a deal with Arista Records.
The band's 1989 debut album featured the hit songs "Angel Eyes" and "Hideaway." That same year, they also filmed several scenes for the movie Road House. Healey transitioned into the jazz genre in 2000 and incorporated the trumpet and the guitar in his act. In 2008, Healey passed from cancer just a month before the release of his final album, Mess of Blues.
Ray Charles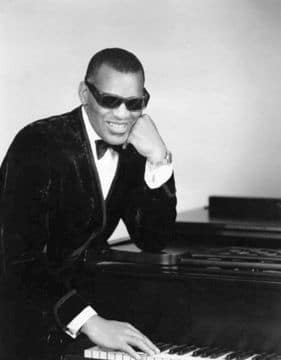 Another famous American blind musician is Ray Charles. When he was five, his sight started deteriorating due to juvenile glaucoma. By seven, he was completely blind. Amazingly, that didn't stop him from becoming one of the greatest artists of all time.
Charles is known for his expressive and rhythmic piano playing and distinctive raspy voice. His greatest hits include "Georgia On My Mind" and "Hit the Road, Jack." In addition to these songs, Charles received many awards, including 13 Grammy Awards and a lifetime achievement award.
Art Tatum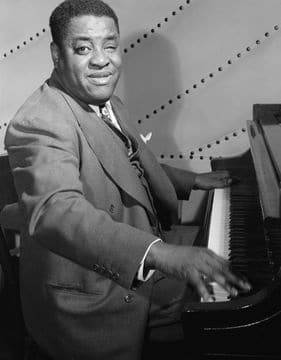 Born in 1909 in Toledo, Ohio, Art Tatum suffered from cataracts since infancy. A portion of his vision was restored after several eye surgeries by the time he was eleven. However, a violent assault in his early twenties left him mostly blind.
With perfect pitch and an ability to play by ear, Tatum could make even a poorly tuned piano sound good. As a result, he intimidated most of the pianists he met. Tatum was a fixture in Toledo clubs by 1932, the year he was recruited to play for jazz singer Adelaide Hall.
After a move to New York City, he quickly made a name for himself. Legends such as Duke Ellington and Miles Davis were known admirers of his talent. Tatum experienced most of his success as a jazz soloist during the 1940s.
This decade saw multiple appearances by Tatum in film, television, and performances at the Los Angeles Philharmonic. His popularity waned when jazz music moved away from the ragtime sound to bebop. Tatum died of uremia in 1956. In 1989, he was posthumously awarded a Grammy Lifetime Achievement Award.
Andrea Bocelli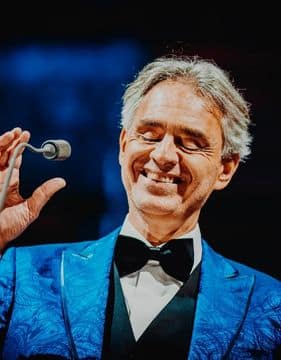 According to Celine Dion, if God Himself had a voice, it would sound like Andrea Bocelli's. Not only is he a famous blind musician, but he is also one of the most well-known opera singers worldwide.
Bocelli was born in Italy with congenital glaucoma, leading to complete blindness by age twelve. He learned to sing as a child from listening to opera records.
He also learned to play many instruments in childhood, including piano, trombone, flute, and saxophone. In 1994, Bocelli became a household name when he sang "Il mare calmo della sera" at the Sanremo Music Festival. Since then, Bocelli has enjoyed a successful singing career with multiple album releases and collaborations with pop acts. His first album, Romanza, is still the best-selling Italian album of all time, even though it was released in 1997.
Bocelli was selected to perform at the 2020 EUFA European Football Championship in Rome. In 2022, he performed at the Platinum Jubilee of Queen Elizabeth II.