Cellos have the greatest solo repertoire in orchestras after violins, though many cellists would argue that their pieces are better. The smoothness of the...
American Grammy award winner violinist, Mr. Joshua David Bell once was quoted saying "When you play a violin piece, you are a storyteller, and...
Most of those who are still starting to play the violin might find it difficult to produce a crisp yet clean sound with only...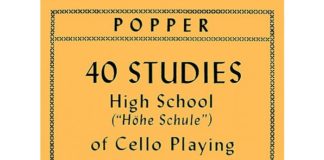 If you play the cello and you want to improve your technique, Popper is here to save you. The High School of Cello Playing...